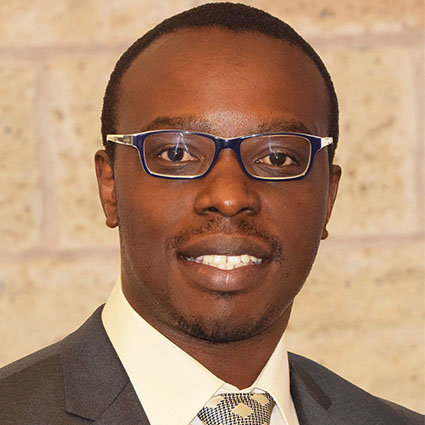 Dr. Francis Wafula
Senior Lecturer in Healthcare Management Strathmore University Business School
Francis (Frank) is a Senior Lecturer in Healthcare Management at the Strathmore Business School.
He has been working with the World Bank Group as a health specialist since 2013, supporting various programs in Kenya, South Sudan, the East African Community, and Francophone Africa. Frank holds a PhD in Health Systems and Policy (University of London – London School of Hygiene and Tropical Medicine, UK and the Open University-UK), a Masters in Public Health (also from University of London), and a Pharmacy degree (University of Nairobi).
Frank has worked as a consultant for UNICEF, Global Fund, WHO, DFID, USAID, the Bill and Melinda Gates Foundation, and various governmental and non-governmental agencies in Sub-Saharan Africa.
Dr.  Francis had the following awards: Bronze Medal Award by the University of Nairobi for being the 3rd best Bachelor of Pharmacy Student and the Pfizer Prize Award for being the 3rd best Bachelor of Pharmacy Student.
He previously worked as a research advisor for Aidspan, supporting HIV, TB and Malaria programs through analysis of Global Fund programs across 152 countries. Prior to that, he spent six years as a health systems researcher at the KEMRI/Wellcome Trust Research Programme in Nairobi.
He previously lectured in the MSc Health Economics course at the School of Economics-University of Nairobi, and taught Health Policy and Management to the Master of Pharmacy class, also of the University of Nairobi.