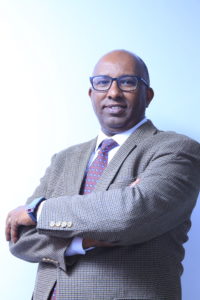 Dawit Moges
Secretary General at Confederation of IGAD Employers (CIE)
Dawit Moges is the Chief Executive Officer of Hema Integrated Diagnostic Laboratory in Addis Ababa, Ethiopia. Under his leadership, Hema Lab has received the distinction of being Ethiopia's first private health institution to sustain ISO accreditation for 6 consecutive years.
Dawit is also the Chief Executive Officer of Sister Aklesia Memorial General Hospital in Adama, Ethiopia. Mr. Moges Alemu, Dawit's father, recognized that Adama needed a hospital and completed the construction of Sister Aklesia Memorial Hospital (SAMH) in 2006. Dawit Moges is also the Executive Director of Sister Aklesia Memorial Hospital and provides oversight and management of general activities of the hospital.  He has directed the IPRH/SAMH cervical cancer screening program for three consecutive years and actively facilitates the acquisition of important equipment.
He brings a vital and important energy to the work of IPRH. His leadership supports the staff and healthcare professionals at SAMH to provide cervical cancer screening programs to the women of Adama, Ethiopia.
Dawit is married  and a father of three daughters. Married to Kidist Tesfaye, a tour operator and hotelier running two family business (Forship Travels and Damu Hotel) as general manager just like myself. Together we have raised three daughters  Ruth , Gelila and Feven who are 21, 19 and 17 respectively. They are all speaking trilingual (English, French and Amharic) fluently and now attending college (Ruth 4th year majoring in Biology  and Gelila 2nd year majoring in International relations) in Oglethorpe University and Feven accepted in Wellesley college in Massachusetts for the 2020 academic year as freshman.